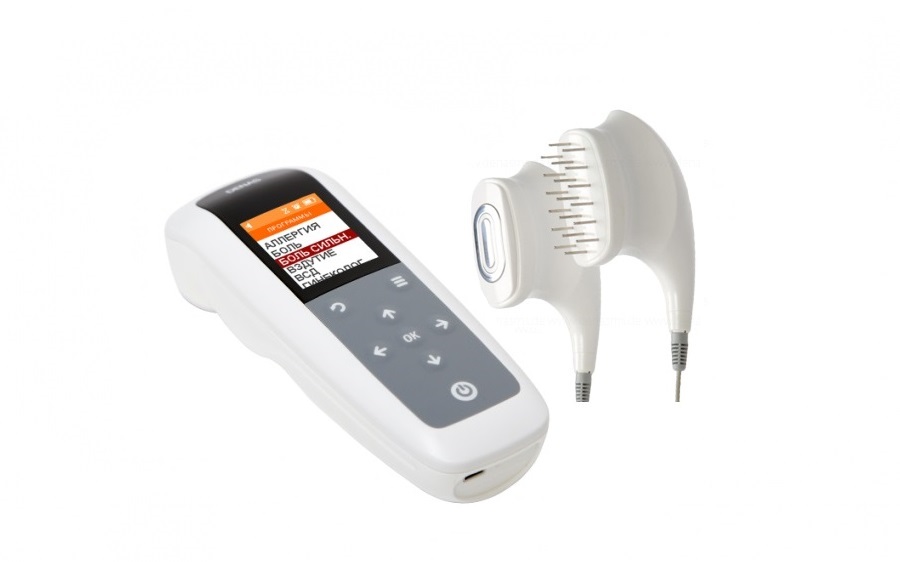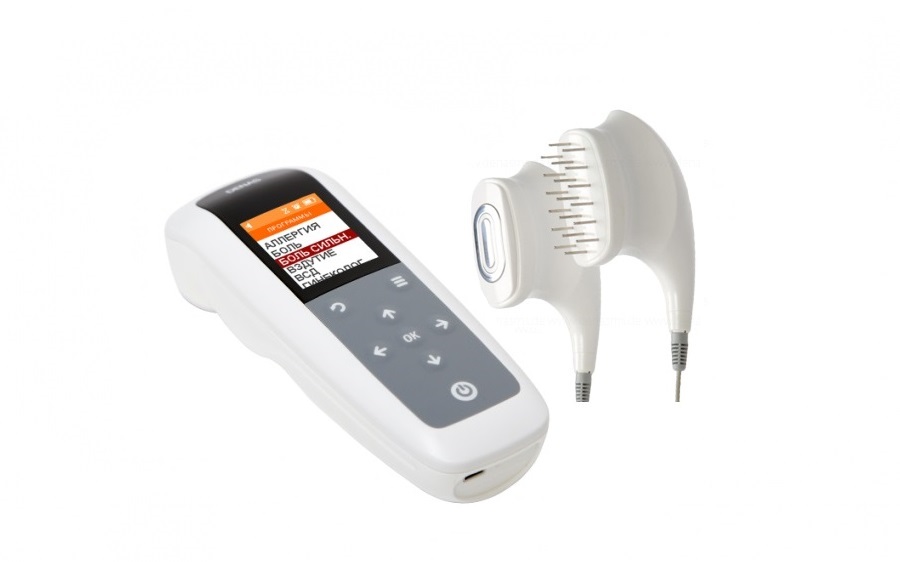 DENAS PCM 6 + DENAS Massage
DENAS PCM 6 universal device 6th generation. For professional, clinical and home use.
Multilingual menu navigation. Choice of languages: English, Russian, German, French and Italian.
DENAS Massage – set of external needle-shaped and flat electrodes for DENAS/DIADENS
Description
NEURODENS PCM /DENAS PCM 6
The device DENAS PCM 6 has the maximum therapeutic and prophylactic capabilities. New frequency 125 Hz and new modulated mode "77 20" added to the device. The new frequency has mild analgesic effect with correction of vegetative disturbances such as unstable blood pressure and dizziness.
The anti-stress effect is easily achieved with the "77 20" mode: nervousness, anxiety and fear, depression, etc. disappear. In addition, "77 20" gives a pronounced vascular (regulates vascular tone), anti-edema and lymphatic drainage effects. The function "Children's doctor", which fixes the power of exposure from 0 to 5 units, has been significantly improved.
The device has an electronic manual for the programs, which until now had only been available in paper form. The image with the zone on which the device is to be placed appears on the screen when the patient selects the desired program in the "Express Therapy" in the menu. After the procedure, a beep sounds on the indicated zone (there is a countdown of the time during the session), and then the image of the next zone appears. That is, there is no need to leaf through and look for the page you need – all the necessary information is provided immediately after selecting the desired program.
The body of DENAS PCM of the 6th generation meets all the ergonomic requirements: special finger indentations on the back panel, conveniently located buttons, streamlined, slightly elongated shape of the body – all this makes the device very comfortable in use.
Ability to set one of the five proposed menu languages: Russian, English, German, French and Italian.
Indications for use – acute and chronic pain syndromes, injuries, respiratory diseases, digestion system, cardiovascular system, endocrine and urogenital systems, rehabilitation after diseases and surgeries, increasing of adaptive capabilities of the body during intensive physical and mental activity, etc.
DENAS-PCM helps to solve most health problems. It is often bought for the whole family, because it is very convenient, easy to use, has detailed and clear instructions and any person can master it.
The device is equipped with back-lit LCD-display and cell-phone-like menu, which allows the patient to choose various treatment programs for first aid and also for course of treatment. The device has 11 operation modes and 24 automatic treatment programs.
The 'Programs' menu item allows you to choose one of 24 express therapy programs for the most common diseases and conditions. You don't have to think about which program is right for a headache, a cold, a cough, back or joint pains, allergies, bloating, blood pressure, etc. You just choose the problem in the menu list and DENAS PKM will automatically set the necessary frequency and treatment mode, and detailed instructions on how to use the device will show the treatment zones.
The menu item 'Frequencies' allows you to manually select the following modes:
1 to 9.9 Hz – infra-low frequencies for individual choice of treatment parameters to help with, for example, headache and insomnia.
10, 20 Hz – universal modes of correction of psycho-emotional state and hormonal disorders.
60, 77, 140 Hz – special modes for treatment of different types of pain, swelling and inflammation, rehabilitation of joint and spine problems, after surgeries and injuries.
200 Hz – rapid anesthesia mode.
77AM – a mode with a pronounced tonic effect, allowing to cope with chronic fatigue syndrome, restore strength and significantly increase efficiency.
7710 – the mode with relaxing effect, which has proven to be excellent for lowering blood pressure, as well as for getting rid of insomnia and stress.
The "EDR" program is designed for rehabilitation after physical and mental stress, for chronic fatigue syndrome, as well as for the prevention of diseases, including colds during epidemics.
The "Screening" program helps to choose the most optimal treatment zones.
The DENAS-PCM device has a number of additional advantages, such as a battery-saving mode, sound volume setting, a timer, a possibility to set a reminder for the next treatment session.
When using the device it is necessary to take into account that the most expressed therapeutic effect is achieved during a course of treatment. The course of treatment includes 6-8 procedures for some diseases and 8-12 or 14-20 procedures for others.
External electrodes can be connected to the device DENAS PCM, which allows using the capabilities of DENS-therapy to the maximum extent and getting quicker and more stable result. We recommend buying in addition: DENAS-applicator, DENAS-glasses, DENAS-Reflexo, massage electrodes.
Children's Doctor" function
DENAS devices have been long and successfully used for treatment of children, that's why in 2015 a new function "Children's doctor" was introduced in the DENAS-PKM device of the 5th generation. This function automatically sets the optimal power range for procedures for children – from 2 to 5, since work at higher power settings will cause painful sensations and negative response to DENAS treatment.
There is now a gradation by age: from 0 to 1 year, from 1 to 3 years, from 4 to 7 years, from 7 to 12 years. Depending on the age, the stimulation time and the set of modes of Express Therapy are automatically changed: each age group is offered certain therapeutic programs. For instance, most children under one year old have certain diseases and pathological conditions – and here they will be treated with the programs "Bloating", "Diarrhea", and "Constipation".
In the list of programs for children from 1 to 3 years, you can find such programs as "Muscle", "Injury", "Pain", etc. In other words, by turning on the function "Baby Doctor" and choosing from the four presented the right age group, parents can easily find the list of programs of interest and conduct a session aimed at solving the problem.
External massage electrodes are used to increase efficiency of DENS therapy, as well as for convenient treatment of skin areas that are inaccessible or inconvenient for treatment with built-in electrodes of the devices. External massage electrodes allow combining two types of treatment – dynamic electroneurostimulation (DENS) and mechanotherapy (massage). Dynamic electroneurostimulation using external massage electrodes is used to treat a wide range of internal diseases, pain syndromes, as well as in facial and body cosmetology.
Application
Massage needle electrode is designed to influence the scalp.
Indications for application:
– headache, dizziness;
– sleep disorders, increased fatigue, anxiety;
– hair loss; rehabilitation after inflammatory diseases, craniocerebral injuries;
– Atherosclerosis of the cerebral vessels;
Massage electrode-platform is designed for cosmetic procedures on the face and body.
Indications for use:
– reduction of skin elasticity and muscle tone, swelling;
– for the treatment and prevention of cellulite;
– For effect on specific painful areas.
Characteristics
The set includes:
– DENAS-PKM device;
– operation manual;
– consumer packaging;
– AA type battery (2 pcs.).
– External therapeutic massage electrode № 1;
– External therapeutic massage electrode №2;
Specifications:
Power supply: 1.5 B LR6/AA (2 pcs.);
Weight: less than 0.35 kg;
Dimensions: 165x65x65 mm.
Ability to set frequencies:
in "Screening" mode – 10 Hz;
in "Therapy" mode – from 1 to 9.9 Hz – in steps of 0.1; 20, 60, 77, 7710, 7720, 77AM, 125, 140, 200 Hz;
in "MED" mode – 10 Hz.
A possibility to attach removable therapeutic electrodes.
There are counterindications for application. For correct realization of procedures with the use of the removable electrodes, as well as for determination of optimal combination with other methods of treatment, it is necessary to read the instructions for use or to consult a specialist.