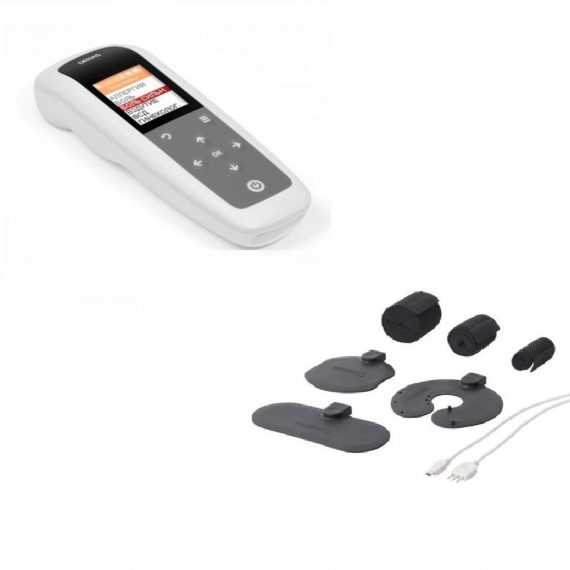 DENAS PCM6 + DENAS APPLICATOR
DENAS-PCM is the universal medical device that allows implementing a range of treatment programs for the first-aid treatment and the protracted treatment.
Denas applicator is a new medical tool to treat various diseases. This non-invasive therapeutic electrode helps with pain syndromes by using the dynamic electro stimulation of the nervous system.
Description
Denas PCM-6
Denas PCM-6 is also a multilingual device. From now, it is possible to use all programs in different languages, for example in English, German, Russian. Each language allows us to have a full translation of each program and all components.
DENAS-PCM means:
24 automatic treatment programs, among which are «Cough», «Pain», «Running nose», «Joints», «Allergy», «Back», etc.;
14 modes for the treatment and the prevention;
the function «Children's doctor» that guarantees comfortable carrying out of therapeutic procedures to babies;
the demonstration of exposure zones on the color display of the medical apparatus in course of the selected technique;
the opportunity to choose the suitable menu language: Russian, English, German, French or Italian.
Buy Denas applicators
Buy Denas application or Diadens apparatus, various models, and accessories to achieve measurable results. Denas apparatus could be used as a functional recovery treatment.

Denas applicator
Denas applicator could be used in the following situations:
if you have pain in your neck or in your back (traumas, osteochondrosis)

if you have pain in your muscles

various problems with your articulations (arthritis, arthrosis, injuries)
Based on Russian research, Denas apparatus is safe and can restore your health better than any medicaments.
Additional information
Quick Comparison
Settings
DENAS PCM6 + DENAS APPLICATOR

remove

Denas Applicators

remove

DENAS PCM 6 + DENAS Glasses

remove

Denas Vertebra 2

remove

Denas PCM 6

remove

Denas glasses

remove

Name
DENAS PCM6 + DENAS APPLICATOR

remove

Denas Applicators

remove

DENAS PCM 6 + DENAS Glasses

remove

Denas Vertebra 2

remove

Denas PCM 6

remove

Denas glasses

remove

Image
SKU
176231
15422
Digital-Thermometer
Rating
Price
Stock
Availability
Add to cart
Description
DENAS-PCM is the universal medical device that allows implementing a range of treatment programs for the first-aid treatment and the protracted treatment.

Denas applicator is a new medical tool to treat various diseases. This non-invasive therapeutic electrode helps with pain syndromes by using the dynamic electro stimulation of the nervous system.

Denas applicator is a new medical tool to treat various diseases. This non-invasive therapeutic electrode helps with pain syndromes by using the dynamic electro stimulation of the nervous system. It is easy to fix Denas applicator on the body and choose a program to start the treatment. Safe and comfortable treatment to treat difficult zones or chronic diseases.

DENAS-PCM is the universal medical device that allows implementing a range of treatment programs for the first-aid treatment and the protracted treatment. DENAS Glasses are therapeutic glasses acting on eyes in order to cure the eyes of every person who has ophthalmological issues.

Denas Vertebra-2 is a new medical tool for electrostimulation and massage of the human body. It corrects various diseases and impacts painful zones of the back. It is the best model to treat various problems with muscles and backache.

While using it, the possibility to switch electrodes and choose different programs with different various frequencies creates a useful effect for total relaxation.

The latest model of Denas tools is Denas-PCM-6. This sensational novelty is very different from other devices in several functions. Somehow, we could call it a technological and medical novelty for physiotherapy treatment and home use.

Denas glasses are therapeutic glasses acting on eyes in order to cure the eyes of every person who has ophthalmological issues. Denas glasses are composed of an external electrode that acts on eyes by electrostimulation waves. It is used as an alternative tool to cure eyes and help them to relax, for example after a long working day. The regular use of Denas glasses increases the eye's health. Denas glasses are Russian innovative products made with hypoallergenic material and filters. It means that the device is fully safe for use by any person who needs it.
Content

Denas PCM-6

Denas PCM-6 is also a multilingual device. From now, it is possible to use all programs in different languages, for example in English, German, Russian. Each language allows us to have a full translation of each program and all components. DENAS-PCM means:

24 automatic treatment programs, among which are «Cough», «Pain», «Running nose», «Joints», «Allergy», «Back», etc.;
14 modes for the treatment and the prevention;
the function «Children's doctor» that guarantees comfortable carrying out of therapeutic procedures to babies;
the demonstration of exposure zones on the color display of the medical apparatus in course of the selected technique;
the opportunity to choose the suitable menu language: Russian, English, German, French or Italian.

Buy Denas applicators

Buy Denas application or Diadens apparatus, various models, and accessories to achieve measurable results. Denas apparatus could be used as a functional recovery treatment.

Denas applicator

Denas applicator could be used in the following situations:

if you have pain in your neck or in your back (traumas, osteochondrosis)

if you have pain in your muscles

various problems with your articulations (arthritis, arthrosis, injuries)

Based on Russian research, Denas apparatus is safe and can restore your health better than any medicaments.

Buy Denas applicators

Buy Denas application or Diadens apparatus, various models, and accessories to achieve measurable results. Denas apparatus could be used as a functional recovery treatment.

Denas applicator could be used in the following situations:

if you have pain in your neck or in your back (traumas, osteochondrosis)

if you have pain in your muscles

various problems with your articulations (arthritis, arthrosis, injuries)

Based on Russian research, Denas apparatus is safe and can restore your health better than any medicaments.

Denas PCM-6

Denas PCM-6 is also a multilingual device. From now, it is possible to use all programs in different languages, for example in English, German, Russian. Each language allows us to have a full translation of each program and all components. DENAS-PCM means:
24 automatic treatment programs, among which are «Cough», «Pain», «Running nose», «Joints», «Allergy», «Back», etc.;
14 modes for the treatment and the prevention;
the function «Children's doctor» that guarantees comfortable carrying out of therapeutic procedures to babies;
the demonstration of exposure zones on the color display of the medical apparatus in course of the selected technique;
the opportunity to choose the suitable menu language: Russian, English, German, French or Italian.

Denas Glasses

Denas glasses could be effective accessories in addition to the main therapeutic cure. The shape of this new and innovative device is designed by Russian specialists in physiotherapy. It suits well to people with different face types and eye shapes.

Diadens glasses could be useful in the following situations:

eye fatigue;
myopia, hyperopia;
glaucoma;
inflammatory diseases of the eyes and retinal degeneration;
atrophy of the optic nerve;
rehabilitation after surgery.

Buy Denas Vertebra

Today, Denas Vertebra is highly recommended for the following purposes:

impact chronic diseases of bones and musculature

correct and prevent chronic or instant diseases of the back

physiotherapy of the body due to mental/physical overload and burn-out

Buy Denas Vertebra on our online shop, check this model with our specialists who speak different languages (English, German, Russian). Forget about the chemical additions and become healthier with Denas, Diadens, and its accessories.

DENAS PCM 6 what it is?

DENAS PCM 6 or DENS (dynamic electrical nerve stimulation) aims to restore major systems in the human body and treat endocrine, and immune systems. The main curative effects of Denas devices:

prevention of inflammatory reactions

pain's treatment

normalization of metabolic processes

vessels, blood restoration, and regulation of blood system

Why Denas PCM-6 useful? We explain why:

Denas-PCM-6 has more useful options and a huge number of modes and frequencies. The previous versions of this device were analyzed by specialists in order to improve the variety of frequencies and modulated programs. In this new apparatus, 3 new frequencies appear - 125 Hz,  77Hz, and 20 Hz.

These new frequencies help to eliminate the problems related to the nervous system, sleeping problems, and other mental diseases. In addition to that, these frequencies give the possibility to treat lymphatic diseases (the reason why it is so often used in cosmetology).

Buy Denas PCM-6

Buy Denas PCM-6 and discover improved medical functions. For example, the function for children was really extended — the Children's Doctor function was enlarged helping young families to manage problems of children from 0 to 12 years with different typical diseases for their age.

Also, Denas PCM-6 has automatic manuals and instructions while using different programs. It is very useful especially taking into account the fact that previously was only in the paper version.

Denas PCM-6 is also a multilingual device. From now, it is possible to use all programs in different languages, for example in English, German, Russian. Each language allows us to have a full translation of each program and all components.

In general, Denas PCM-6 is a new breath in the world of Denas technology. More comfortable, more technologically powerful providing healthier effects to every person!

Denas PCM-6 suits well to treat different types of diseases: from your ankle to your head. As each model (Denas or Diadens) has its specificities even if the main goal of these devices is to treat, to prevent with no need to use any chemical additions.

To order Denas PCM-6 and accessories, contact us by filling the form below.

Menu "Frequency"

Possibility to independently select the treatment frequency in the range from 1 to 200 Hz to design an individual treatment taking into account the diagnosis. Frequencies from 1 to 9.9 Hz - infrared frequencies are used to design individual treatments according to the diagnosis. Frequencies 10, 20 Hz - correction of psychological emotional state and hormonal disorders. Frequencies 60, 77, 125, 140 Hz - universal frequencies for pain, swelling and inflammation. Frequency 200 Hz - quick pain relief in acute injury. 77AM - modulated frequency with tonic effect, allows to overcome chronic fatigue syndrome, restore strength and increase work capacity 7710 - modulated frequency with a relaxing effect, excels in correcting arterial pressure, treating stress and its consequences, suitable for all pain relief schemes. 7720 - modulated frequency for anti-edema and pain relief. It is used in the treatment of pain and restoration of blood circulation. MED (Minimally Effective Dose) - a programme for acting on biologically active points. It is used for rehabilitation after physical and mental strain, prevention of diseases Screening - special regimen helps to find problem zones and determine the zone for further application. Children's doctor - possibility to determine the optimal option and duration of the procedure, a variety of programs when performing procedures on young children. The portability and multifunctionality of the DENAS-PKM physiotherapy device is combined with affordable application and maximum comfort at the right time and place. External electrodes DENAS-Glasses, DENAS-Applifiers, DENAS-Massage and DENAS-Reflexo are connected to the DENAS-PCM, which fundamentally facilitates the performance of procedures, and reduces the difficulty of

Buy denas glasses

Denas glasses could be effective accessories in addition to the main therapeutic cure. The shape of this new and innovative device is designed by Russian specialists in physiotherapy. It suits well to people with different face types and eye shapes.

Diadens glasses could be useful in the following situations:

eye fatigue;
myopia, hyperopia;
glaucoma;
inflammatory diseases of the eyes and retinal degeneration;
atrophy of the optic nerve;
rehabilitation after surgery.

Weight
Dimensions
N/A
N/A
N/A
N/A
N/A
N/A
Additional information